Honeybush Extract with Bioperine.
$29.99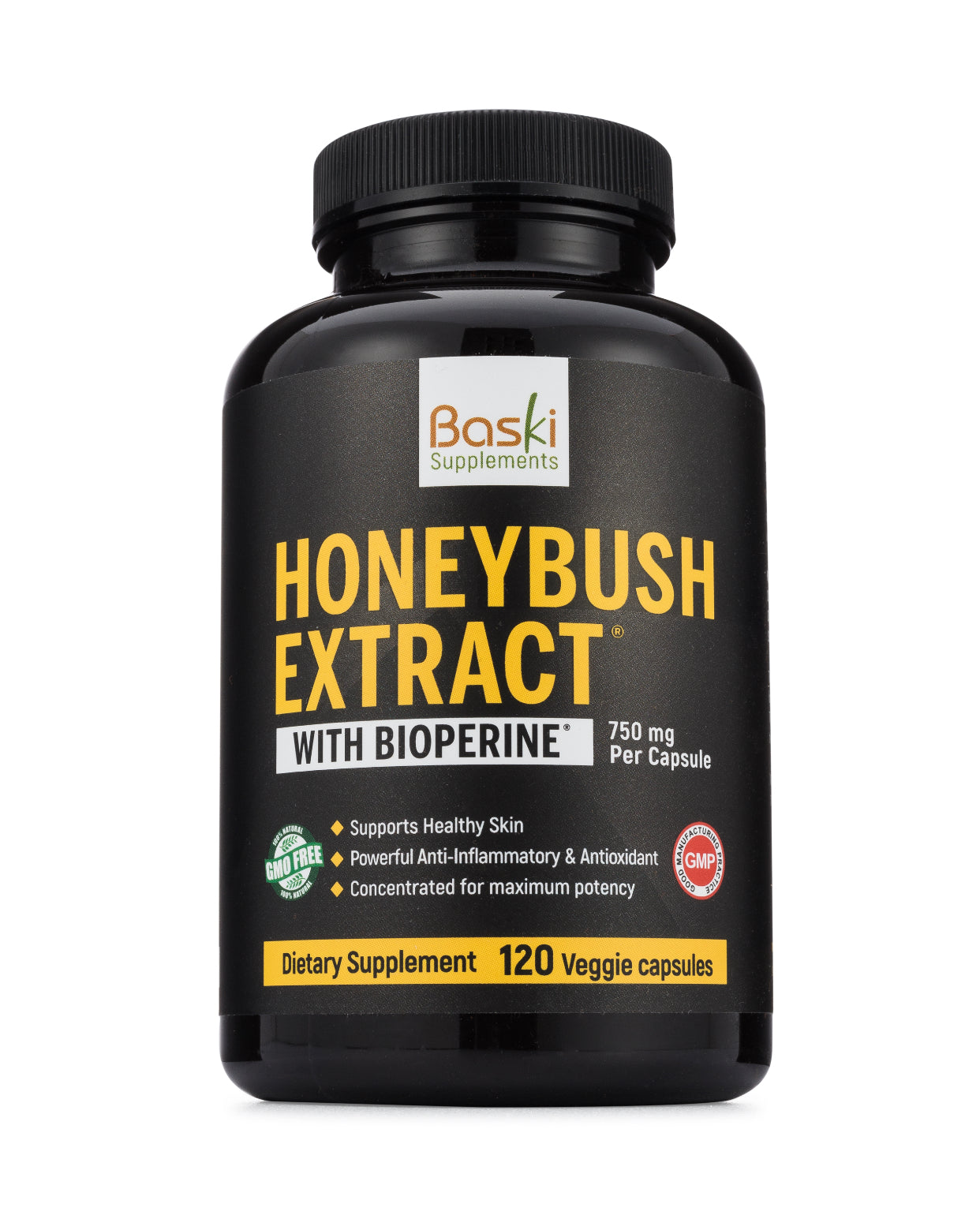 Honeybush Extract by Baski Supplements contains 120 capsules of concentrated Honeybush tea. The natural extract has been formulated to provide an effective treatment for ezcema, psoriasis, rosacea, acne and other skin conditions. Phenolic compounds in honeybush tea are able to reduce inflammation and prevent the development of chronic inflammatory diseases. This makes honeybush tea effective in providing short-term inflammatory relief as well as helping to prevent or alleviate redness and itchy skin caused by dermatitis and psoriasis. The main benefits of the natural supplement are:
COMBATS ACNE & OTHER SKIN

INFLAMMATION

: Our 100% all-

natural

Honeybush Extract Capsules can be a great alternative to topical treatments for acne, eczema, psoriasis, rosacea and dermatitis to reduce skin inflammation from within. It only takes two capsules a day. Since they're

caffeine

-

free

, they can be taken at any time, including before bed.
ANTI

-

INFLAMMATION

: Our product can provide inflammatory

relief

to

itchy skin

and

irritation

on the

face

. Evidence supports that the

phenolic

compounds in honeybush tea are able to reduce inflammation and prevent the development of chronic inflammatory diseases. Phenolic compounds may have a direct effect on down-regulating the body's inflammatory response.
POWERFUL

ANTIOXIDANT

:

Honeybush tea is believed to be especially effective in alleviating

cold

symptoms. The antiviral and antibacterial properties of honeybush tea can improve the

immune system

and help the body prevent and fight many diseases. The phenolic compounds help the immune system and protect it from stress. In addition,

our

pills

are full of minerals and vitamins.
CAN HELP REGULATE

BLOOD SUGAR

: Recent studies have suggested that use of our product may help those who are suffering from

diabetes

or hypoglycemia regulate their blood sugar. Pinitol, an active ingredient in Honeybush Extract, is now being seriously considered as a drug for diabetes. Laboratory studies show that pinitol exerted insulin-like effects and was effective in improving

glycemic control

.

MULTIPLE HEALTH BENEFITS: The Honeybush Extract also contains other therapeutic substances, including isoflavones. These compounds may help regulate menstrual cycles and offer menopause relief. They have can also be helpful in maintaining a healthy immune system. Flavones are natural anti-inflammatories and have anti-viral properties. Xanthones are also anti-inflammatory.